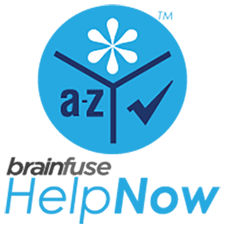 The Plaistow Public Library is excited to announce the launch of Brainfuse HelpNow: on-demand, anytime anywhere, live online tutoring service and eLearning for all ages and levels.
---
Brainfuse HelpNow offers personalized homework help in core subjects (math, reading, writing, science and social studies) including SAT preparation, expert writing guidance and engaging videos targeted to strenghten a variety of academic skills. The Audlt Learning Center is included in the HelpNow suite offering help in career resources and resume writing.
---
How to access Brainfuse:
Brainfuse is currently available to all library patrons from the public computers at the Plaistow Library, or from any computer with internet connection every day from 2-11 pm
Access Brainfuse by clicking here.  (You can also find the link on our website here.)  When accessing Brainfuse from home/outside the library, you will need your library card.
The link will allow you guest access to several of Brainfuse's features.  In order to receive individual help (writing lab, tutorials) you will need to create an individual account.
TO CREATE AN ACCOUNT:
Click on LOGIN at the top right.
Follow prompts to create a user name and password. You can now access the site without having to go through the library website.
Click on the videos below to learn more about Brainfuse and how it can help students of all ages.

Welcome to Brainfuse!

Brainfuse HelpNow Demo